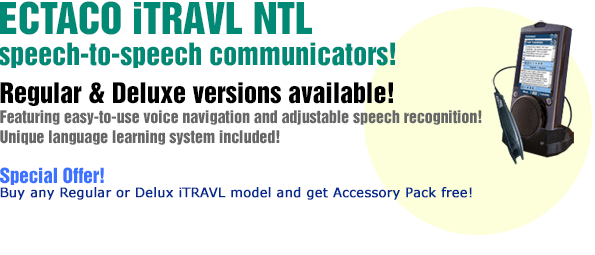 ECTACO is happy to announce a Special Sale campaign going on in our UK online store for all hi-end iTRAVL NTL Series Talking 2-way Language Communicators and Electronic Dictionaries which include everything the business or leisure traveller needs to make visiting foreign destinations an enjoyable and easily navigated experience. These unique devices are also perfectly suited for those learning a foreign language.

The new iTRAVL understands exactly what you say and provides instant translation of words and phrases. By simply speaking into the iTRAVL, you can have your phrases translated and spoken aloud using a sophisticated combination of speech recognition modules, real human voice narration and speech synthesis. Featuring hi-res colour touch screen and hands-free speech navigation functionality it has never been so easy to access the information you need.

Another truly unique advantage of the new device is that it includes a remarkable Language Teacher learning system which actually lets you learn the language you need and practice your pronunciation while on the road.

Other useful features such as an Mp3 player, games, calculator, metric converter, and word time clock utilities are also included.
Click here to download the latest video presentation of the ECTACO iTRAVL.
Just imagine how fast you can learn a foreign language now?! Go for it and pick the one you need!
LATEST RELEASES!
The ECTACO iTRAVL Deluxe NTL series voice-activated language communicator comes equipped with a handy scanner for text translation. This unique add-on lets you grab any printed text wherever you find it - in a newspaper, on a theatre program, a doctor's prescription or even from a poster on the wall - scan it, upload it to the iTRAVL instantly, and get a translation into your chosen language right away! Click here to learn more...
Special Sale Offer!
Buy any multilingual or Deluxe iTRAVL NTL series communicator listed below and get an iTRAVL Accessory Pack (£50 value) absolutely free!
Multilingual iTRAVL models:
Bilingual iTRAVL NTL Deluxe series:
Buy any bilingual iTRAVL NTL series communicator listed below and an iTRAVL Accessory Pack (£50 value) absolutely free!
Regular bilingual iTRAVL NTL series:
SD cards have been released for each and every of the language combinations listed above. They give you the option to install alternative languages onto your iTRAVL NTL.
Now, if you want to add additional language pairs you don't need to purchase a new device!
Simply get an SD card with the languages you need to supplement your ECTACO iTRAVL NTL.
Worth a special notice!
ECTACO P900 Deluxe Series - these unique translators are the most powerful, functional and remarkable language products available on the market today! For language learning and travelling there is nothing better than translators from the P900 Deluxe Series.

Special Offer!
Order today! Buy any ECTACO Partner 900 Series talking translator and get a P900 Accessory Pack (£50 value) free as an additional bonus! Click here to learn more...

Order today! Buy any ECTACO B-3 series talking travel Audio Phrasebook and get a USB cradle (£30 value) free! Click here to learn more...
Please note that the above offers are valid only in conjunction with your online order at www.ectaco.co.uk and cannot be combined with any other offers!