Traveling abroad?
Take along an ECTACO Audio PhraseBook B-3!
Featuring human voicing by native speakers and learning games!
Order today and get a USB cradle (£30 value) free!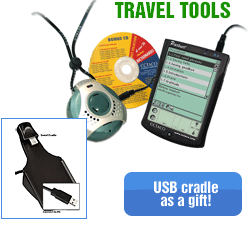 We are proud to present our newest set of handheld devices - the ECTACO Audio Phrasebook B-3, which will certainly become your indispensable travel companion. It acts as your personal interpreter in most standard situations, such as when registering at a hotel, shopping, visiting a bank, and more!

Each bilingual model includes 14,000 travel-oriented phrases organized by subject. Instantly translating from English into the target language and back, it then pronounces the translation naturally - just like a real native speaker would!
UK Special Offer!
Buy any ECTACO Audio PhraseBook B-3 listed below and get a USB cradle (£30 value) free!
29 languages are available now in a wide range of combinations.
ECTACO Audio PhraseBook B-3 for other language combinations are also available. Click here to pick the one you need.
MMC cards have been released for each and every one of the language combinations listed above. They give you the option to install alternative languages onto your ECTACO Audio PhraseBook B-3.
Now, if you want to add additional language pairs, you don't need to purchase a new device!
Simply get an MMC card with the languages you need to supplement your ECTACO Audio PhraseBook B-3.
ECTACO Audio PhraseBooks B-3 come with a self-amplified loudspeaker. An additional bonus CD includes the ECTACO Desktop Manager and over 20 software dictionaries to enhance and extend your device's flexibility.
Worth a special notice!
ECTACO P900 Deluxe Series - these unique translators are the most powerful, functional and remarkable language products available on the market today! For language learning and travelling there is nothing better than translators from the P900 Deluxe Series.

Special Offer on hi-end translators!
Order today! Buy any ECTACO Partner 900 series talking translators and get a P900 Accessory Pack (£50 value) free as an additional bonus! Click here to learn more.
Please note that the above offers are valid only in conjunction with your online order at www.ectaco.co.uk and cannot be combined with any other offers!