ONYX BOOX Nova has a 7.8-inch E-Ink Carta HD screen with a resolution of 1872 × 1404 (300 ppi) and a front light with adjustable color temperature. It has a quad-core processor with 2GB of RAM and it runs Android. ONYX BOOX Nova eBook Reader is readable directly in the sunlight and have no glare, just like on the real paper. New E Ink regal refresh technology leaves no shadow and ghosting lines after page turns and provides you a clearer reading view. Large storage allows you to carry thousands of ebooks with you. One battery charge lasts several weeks, not days. A built-in Wi-Fi module allows one to use the device for full Internet browsing greatly expands its functionality.
Adaptive brand new front-light technology enhances your nighttime reading experience
Warm light hue, cold light hue or mixture? It is all at your fingertips.You can adjust the brightness and hue of the front light to your preferred level.Warm light is recommended for nighttime reading as it helps to improve your sleep at night.
Comfortable reading
The screen of the latest generation E Ink Carta with a diagonal of 7.8" has a lighter base and higher contrast than other screens of the type. It makes the text readable in bright sunlight and has a high rate of a screen refresh. The absence of shimmering light and the principle of image formation with the E Ink method makes reading comfortable for your eyes.
Format support
The BOOX software allows the user to open files of various text and graphic formats. When reading you can change font style and size, disposition of pages, insert bookmarks, add your own fonts and zoom documents at your will.
No more Audio Jack?
No worry, built-in bluetooth allows you to collect Nova with external speaker Connect your Nova with Bluetooth speaker, then enjoy music and audio books whenever you want. Feel tired of reading books? Our text-to-speech feature reads the book out loud for you from where you left.
Outstanding technical specifications
The 4-core processor with 1.6 GHz clock rate and 2GB of RAM ensures comfortable work with any even the most difficult documents. And 32GB of nonvolatile memory allow the user to store a large library of technical literature.
Built-in dictionaries
The Nova eReader has pre-installed English-Russian and Russian-English dictionaries. Want to translate an unknown word? Just touch it!
Continuous work
Low power consumption of E Ink displays and battery capacity of 2800 mAh provides up to a month of autonomous work.
Support of languages and dictionaries
The BOOX allows the user to read documents in different world languages. Amongst them there are such languages as Russian, English, German, French, Spanish, Arabic, Swedish, Chinese, Japanese and many others.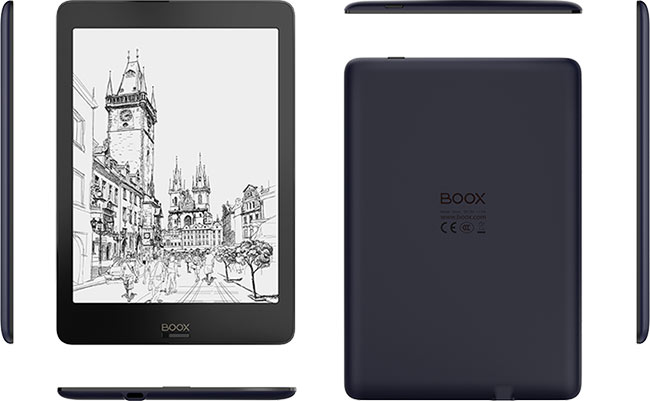 Package Contents:
ONYX BOOX Nova eReader
User's manual
Case-cover
USB-cable
Power adapter 220 V
Warranty card
Display
7.8" HD Eink Carta Screen, 1872×1404 px, 300 ppi, 16 levels of grey, touch
Processor
Cortex-A17 1.6GHz Quad-core
RAM
2GB
Internal memory
32GB
Monitor interface
Type-C
Supported file
Text: TXT, HTML, RTF, FB3, FB2, FB2.zip, DOC, DOCX, PRC, MOBI, CHM, PDB, DOC, EPUB
Graphic: JPG, PNG, GIF, BMP
Others: PDF, DjVu
Wireless interface
Wi-Fi IEEE 802.11 b/g/n
Bluetooth
4.1
Battery
Polymer Li-ion, 2800 mAh
Operating system
Android 6.0
Size
7.7 x 5.4 x 0.3 in (196.3 x 137 x 7.7 mm)
Weight
8.46 oz (240 g)
Ceritification
CCC,ROHS,CE,FCC
Warranty period
1 year
Note: Since a part of the Flash memory size is system software, the portion available to the user is less than the total size of the memory chip.
The device is designed primarily for reading electronic books, but has some additional features which are defined by the installed software. For example, the current firmware has functions such as calendar, dictionary, access to the Internet, and others.
The device is freely reprogrammable on request of the user who can install, delete and create programs.
The device has a battery that provides long, autonomous usage.
Click here to learn about devices featuring multiple languages