Unlike LCD screens, 13.3" (similar to A4 size) E Ink high resolution flexible display, best screen size for scanned PDF documents, has no glare, just like reading and writing on real paper.
Quad core processor — faster and more responsive than previous generations.
Dual touch technology (finger touch + stylus touch) helps you manage your Max2 easier and simpler.
Wacom 2048 levels pressure sensitivity gives real pen-to-paper experience. Sketching, drawing, note-taking, and handwriting all become very easy and handy.
Android 6.0 offers better compatibility and expansibility to third-party applications.
eReader Mode
MAX PRO screen size is incredibly good for reading large PDF books. No zooming and scrolling needed, it displays original book size. On MAX PRO you can enjoy the rich reader features of BOOX eReaders: bookmark, highlight, annotation, scribble notes, reflow, adjust fonts and contrast…and a lore more.
Tablet Mode
Powered by quad-core processor and Android 6.0, MAX PRO allows you to complete most tasks done on regular Android tablets aside from watching videos smoothly. Install your daily favourite apps: bookstores (Kindle), Cloud (Dropbox), Web-browser, RSS readers, newsstands…Save your eyes from tiring LED screen.
Monitor Mode
Larger than iPad Pro screen, MAX PRO screen can be used as a second monitor via HDMI port. No hassling to install any software. One single tap will help you to sync your computer screen to MAX PRO screen. Treat yourself with some luxurious break from your computer screen that causes you digital eye strain.
Easily manage your MAX 2 PRO by either finger or Wacom pen
Above the screen surface there is a capacitive sensor with multi-touch support. You can page books and zoom your documents with intuitively clear movements of two fingers. Besides there is the Wacom touch layer which is located under the E Ink panel. So you can make notes on the margins and draw sketches with the help of the special stylus that comes with MAX 2 PRO. 2048 levels of pressure sensitivity gives users superior control to create very artistic images and text.
Writing, sketching and drawing
Write, sketch and jot down your ideas any time and anywhere. Do not worry about running out of pages with 64 GB internal storage. No lagging, just like
Sidenote
Divide the screen into two windows, catch up your sparkle thoughts by writing them down on the blank window page while reading.
It Multitasks, Just Like Normal Android Tablets
Powered by quad-core processor and Android 6.0, MAX PRO can run multiple apps at the same time. A single tap to the right up corner will display all running apps.
Format support
Indulge yourself in reading on the largest paper-like eReader. MAX PRO supports over 10 main trend Ebook formats, especially exceptional for reading PDF books. Sharp and dark text, various font options, bookmark, highlight, annotation, handwritten notes, side note, and pinch-to-zoom – all reader features make your reading more enjoyable.
Built-in dictionaries
ONYX BOOX MAX 2 PRO has pre-installed English-Russian and Russian-English dictionaries. Want to translate an unknown word? Just touch it!
Continuous work
Low power consumption of E Ink display and battery capacity of 4100 mAh provides up to a month of autonomous work.
Support of languages and dictionaries
The BOOX allows the user to read documents in different world languages. Amongst them there are such languages as Russian, English, German, French, Spanish, Arabic, Swedish, Chinese, Japanese and many others.

Package Contents:
ONYX BOOX MAX 2 PRO e-reader
User's manual
Case-cover
Stylus
USB-cable
HDMI-cable
Warranty card
BOOX MAX 2 PRO Specification:
Hardware

13.3" inch high resolution mobius Eink display
2200 x 1650 pix (207ppi)
16 gray scale
Capacitive touch + Electromagnetic pen touch (WACOM)
Quad-core 1.6 GHz CPU
4GB LPDDR3 memory
64GB EMMC storage
Wi-Fi + BT 4.1

Software

Regal refresh
Android 6.0
Documents format: PDF, EPUB , TXT, DJVU, HTML, RTF, FB2, DOC, MOBI, CHM...
Images format: PNG, JPG, TIFF, BMP
Audio format: WAV, MP3
APP Store: BOOX store (1.9.1)
Support DRM

Others

Buttons: Menu, previous page, next page, back, power
Monitor interface: Micro HDMI
Expansion interface: Micro USB
Earphone jack: 3.5" earphone jack
Battery capacity: 4100mAh Li-Polymer battery
Battery life: Up to 4 weeks (standby mode)
Dimesion: 325x237x7.5 mm
Weight: ≤ 550g
Ceritification: CCC, ROHS,CE,FCC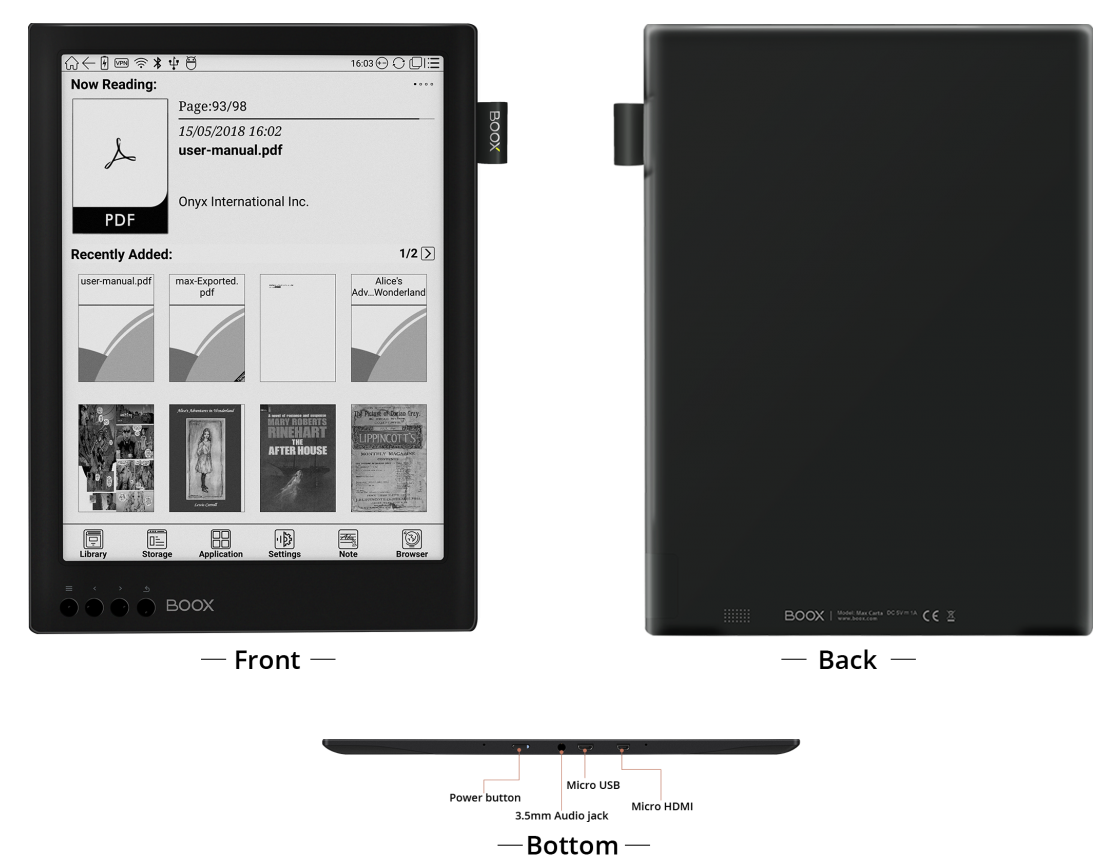 Note: Since a part of the Flash memory size is system software, the portion available to the user is less than the total size of the memory chip.
The device is designed primarily for reading electronic books, but has some additional features which are defined by the installed software. For example, the current firmware has functions such as calendar, dictionary, access to the Internet, and others.
The device is freely reprogrammable on request of the user who can install, delete and create programs.
The device has a battery that provides long, autonomous usage.
Click here to learn about devices featuring multiple languages