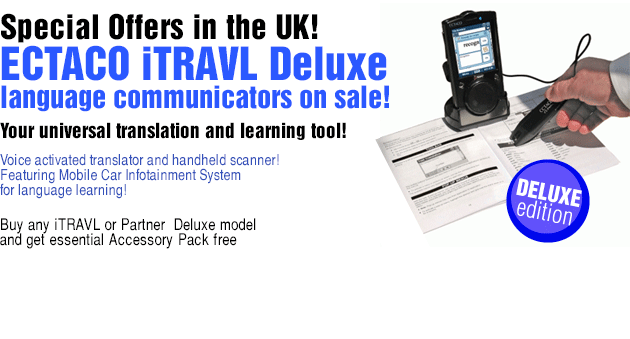 ECTACO is happy to announce a 3-for-1 Special Sale campaign going on in our UK online store for all hi-end award-winning iTRAVL series - ECTACO iTRAVL NTL Deluxe series voice activated language communicators that come equipped with a handy scanner for superior text translation. This unique add-on lets you grab any printed text wherever you find it - in a newspaper, on a theatre program, a doctor's prescription or even from a poster on the wall - scan it, upload it to the iTRAVL instantly, and get a translation into your chosen language right away!
The Deluxe Edition special features include:

- The handheld ECTACO C-Pen portable scanner and translator for prompt text and words translation.
- iTRAVL Universal desktop cradle for data exchange with PC, battery charging and ECTACO C-Pen connection.
- Hands-free/Eyes-free Mobile Infotainment System for language learning in the car, on the train, or on the go.
- Linguistic Crossword program - the best in linguistic science - our language learning variation of the world-renowned crossword puzzle.
- Smart AudioKeyboard™ program helps you memorize foreign letters, listen to their sound as you type them without the need for a stylus - just use your fingers and select!
- Bi-directional, CES Award winning Language Teacher program based on our proprietary speech recognition and speech analysis technology.
Perfect for anyone who wants to speak a foreign language with little or no experience, the new iTRAVL understands exactly what you say and provides an instant translation of words and phrases. By simply speaking into the iTRAVL, you can have your phrases translated and spoken aloud using a sophisticated combination of speech recognition modules, real human voice narration and speech synthesis. Featuring a hi-res colour touch screen and hands-free speech navigation functionality, it has never been so easy to access the information you need.
Other useful features include an Mp3 player, games, voice recorder, calculator, metric converter, and word time clock utilities.
ECTACO iTRAVL is powered by Windows CE providing extended functionality and responsiveness.


3-for-1 Special Offer!
Buy any of our iTRAVL NTL Deluxe series communicators listed below and get ECTACO Multilingual PhraseBook B-3 (£170 value) plus an iTRAVL Accessory Pack (£50 value) free! The iTRAVL Accessory Pack contains an extra stylus, two LCD protecting films and an outlet adapter.
Click here to learn more about regular iTRAVL NTL series language communicators.

Click here to learn more about the iTRAVL Innovations Design and Engineering Award 2008 from the Consumer Electronics Association (CES).
ALSO AVAILABLE! ECTACO P900 Deluxe series talking translators!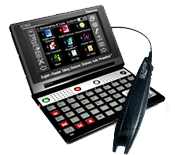 This is the latest generation of ECTACO Partner 900 series translating machines which comes with a handheld scanner and features our most extensive vocabulary yet with human voicing, a Full Text Translation system with advanced voice output, an easy to use bilingual translating Picture Dictionary, a complete English explanatory dictionary and our latest speech recognition system. These smart new translators contain everything you need for superior translation and accurate communication and much more. Our jetBook e-book reader has also been included as an additional benefit. In addition, exclusive User Dictionaries allow you to store your own personalized lists of frequently used words and a history function remembers your most recent translations to provide instant access to the information you need most to understand and be understood.
3-for-1 Special Offer!
Order any of our Partner 900 Deluxe series electronic translators listed below and and get a P900 Accessory Pack (£50 value) free plus ECTACO Multilingual PhraseBook B-3 (£170 value) as an additional bonus! The P900 Accessory Pack contains an outlet adapter, an Ectaco SD card reader, a mini USB connection cable, a storage pouch and a professional headset with microphone.
OUR LATEST RELEASE! ECTACO P900 Grand series talking translators!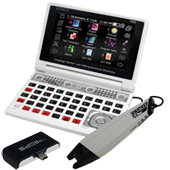 The most recent Partner 900 Grand series models not only come with the scanning pen, but also include the GPS receiver and some useful accessories for your car in the standard package. The GPS attachment clips on to the unit and records its own position, time, date, speed, heading and altitude so you never lose your way.
3-for-1 Special Offer!
Order any of our Partner 900 Grand series electronic translators listed below and get a P900 Accessory Pack (£50 value) free plus ECTACO Multilingual PhraseBook B-3 (£170 value) as an additional bonus!
Please note that the above offers are valid only in conjunction with your online order at www.ectaco.co.uk and cannot be combined with any other offers!