| | |
| --- | --- |
| Category: | Talking bilingual dictionary expandable to include over 50 language combinations |
| Language pair: | English <-> Japanese; Japanese <-> English |
| Speech: | English and Japanese for the Dictionary; English and Japanese for the PhraseBook |
| Number of words: | 455,000 |
| Battery Type: | Li-Polymer rechargeable battery (3.7V, 1700mAh), included |
Engrave your Partner for only £9.95!
On-the-go language learning at its finest! The English-Japanese Partner 900 is designed to teach you English and Japanese step-by-step through its interactive tutor programs. From the privacy of your own home to driving, walking or even sleeping, different program sets will comfort you to your learning needs. Additionally, one-of-a-kind features include a Full Text Translator, the largest electronic translator and talking dictionary, speech to speech translation, learning games.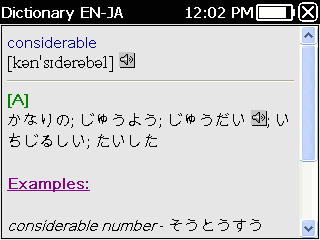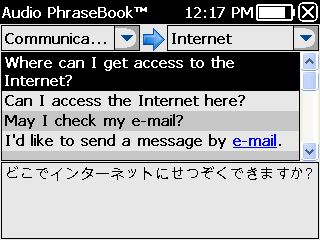 Learning Features
Interactive programs like the Language Teacher provide you with a step-by-step process through alphabets, words, phrases and dialogues. Each topic can be individually selected and saved after exiting the program. The Language Teacher feature is the most successful handheld language learning program to date.
U-Learn
The highest rated language-learning program for those on the go. Entering this mode and selecting your category (everything from Shopping to Travel) will begin an interactive program that is fully hands and eyes free. It will ask you questions and help you with your pronunciation on everything to get you speaking in no time.
Audio Phrasebook
With 14000 pre-recorded phrases there's nothing you can't find! Use the speech recognition to say and search for your phrase or find it manually through our easily accessible topics. All phrases are pronounced fluently in both English and Japanese so when you speak the phrase in English, you'll get the perfect translation in Japanese.
Full Text Translation
Use the bilingual keyboard or on screen virtual keyboard to type ANYTHING you want in English or Japanese and get an accurate translation instantly.
Largest Dictionary and Picture Dictionary In The World
Find ANY word you might be looking for here in the dictionary. Not only can you hear how its pronounced (in a real human voice), but you also receive its parts of speech, gender, synonyms and much more.
Features:
Large 3.5" colour LCD screen
455,000 entry English <-> Japanese bilingual translating Dictionary
70,000 English explanations with the WordNet Princeton English Dictionary
Language Teacher program to help you learn a language step by step
ULearn application for language learning to it's fullest while on-the-go
Advanced English and Japanese Speech Recognition
True Voice human pronunciation of English and Japanese words and phrases
Talking Picture Dictionary with pronunciation for all words
14,000 entry Audio PhraseBook for commonly encountered situations
Unbeatable Word-Of-The-Day vocabulary builder
Full Text Translation
Spell-Check, History and Slang Lock options
Smart QWERTY and Virtual Keyboard with Audio interface
Vector Ultima™ spell-checker and English Morphofinder™ to help find the words you need
English Grammar, Irregular Verbs, Idioms, and SAT 200/5000 vocabulary builders
Games including Linguistic Crossword, Pockets, Spell-It-Right, FlashCards, Hangman, and Translation Tests
Customizable translating jetBook Reader with FB2, TXT and XML file support
Video Player with .avi, .wma, .wav, .ogg, .jpg, and .png. support
Voice recorder
SDHC card support of up to 32GB
Headphones with mic, Usb cable, Adapter, Rechargeable battery are included in the standard package.
This model is normally operated in a silent mode and you will need to press the "Speaker" button or to choose the corresponding option from the menu in order to hear the translation spoken out loud.
This model is available in different colours: Candy Red, Caribbean Blue, Brazilian Green. Find your favorite here:
Click here to learn about devices featuring multiple languages