More info
Ectaco 39 Cross Language Picture Dictionary for Android
THE ONLY 39 CROSS LANGUAGE PICTURE DICTIONARY FOR ANDROID!
Cross language means that you can translate between any of the 39 built-in languages with no limit! You can translate words from Korean to Russian or even Vietnamese to Slovak instantly. NO NEED FOR AN INTERNET CONNECTION OR 3G – the entire app comes pre-loaded with everything you need for studying, traveling, or anything on the go.
Each word has a corresponding picture and FLUENT HUMAN PRONUNCIATION so you can memorize it easier and even have a pic to reference it to.
Price: £12.42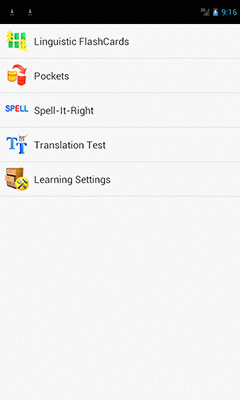 More info
Ectaco English <-> Hindi FlashCards for Android
Ectaco English-Hindi FlashCards comprises four linguistic games - Linguistic FlashCards, Pockets, Spell-It-Right, Translation Test - and an additional section called Learning Settings, which enables you to create new sets of user entries for the games mentioned here.
Price: £3.99


More info
Perfect for language studies!
Translates in an instant and speaks the translation!
Buy directly from the developer and save!
LingvoSoft Talking Dictionary English <-> Hindi for Palm OS
This powerful and sophisticated electronic dictionary application provides immediate bidirectional translations and advanced English speech synthesis. Once installed on your device it will allow your Palm to speak English words and phrases selected from its extensive databank! It also includes powerful search functions such as Quick Search, Vector Ultima spell-checker and our signature MorphoFinder function to help you find the words you want in a matter of seconds. Efficient and effective, this useful dictionary will greatly enhance the functionality of your Palm handheld to improve your command of a second language.
Price: £25.95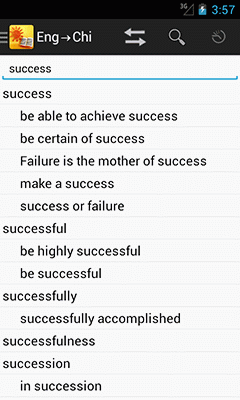 More info
Ectaco East Asian Dictionary Pack for Android

Ectaco East Asian Dictionary Pack for Android

Ectaco East Asian Pack for Android Contains: An exquisite collection of extensive vocabularies for English <-> Chinese, Hindi, Indonesian, Japanese, Korean, Tagalog (Filipino), Thai, Vietnamese; a choice of 7 display languages; advanced TTS (text-to-speech) for English, German, Greek, Spanish, French, Italian, Hebrew, Japanese, Dutch, Polish, Portuguese, Russian and also Real Voice capabilities. It's a user-friendly translation tool that includes up to 1,000,000+ words depending on the language.

Price: £49.95