More info
Perfect for language studies!
Provides instant translation!
Buy directly from the developer and save!
LingvoSoft Dictionary English <-> Armenian for Palm OS
This unique electronic dictionary application provides immediate bidirectional translations between English and Armenian. Its powerful search functions such as Quick Search, Vector Ultima spell-checker and our signature MorphoFinder function to help you find the words you want in a matter of seconds. A user-friendly keyboard facilitates easier typing, and the high resolution support makes for superior readability. Efficient and effective, this useful dictionary will greatly enhance the functionality of your Palm handheld to improve your command of a second language!
Price: £19.95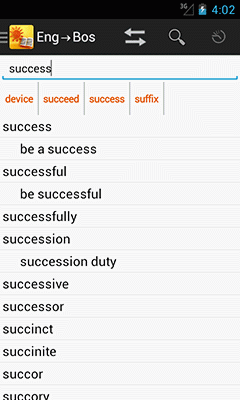 More info
Ectaco Eastern European Dictionary Pack for Android

Ectaco Eastern European Dictionary Pack for Android

Ectaco Eastern European Pack for Android Contains: An exquisite collection of extensive vocabularies for English <-> Bosnian, Bulgarian, Croatian, Armenian, Albanian, Czech, Estonian, Hungarian, Latvian, Lithuanian, Polish, Romanian, Russian, Serbian, Slovak and Ukrainian; a choice of 7 display languages; advanced TTS (text-to-speech) for English, German, Greek, Spanish, French, Italian, Hebrew, Japanese, Dutch, Polish, Portuguese, Russian and also Real Voice capabilities. It's a user-friendly translation tool that includes up to 1,000,000+ words depending on the language.

Price: £99.95