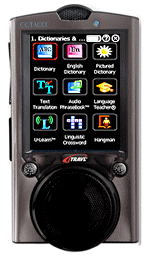 More info

Accessories
ECTACO iTRAVL NTL-14AS Talking 2-way Multilingual Language Communicator and Electronic Dictionary

ECTACO iTRAVL NTL-14AS Talking 2-way Multilingual Language Communicator and Electronic Dictionary

Simply put, our absolutely unique iTRAVL is the most remarkable multilingual travel and communication handheld in the world. Full to bursting with everything you could ever need when visiting a foreign destination, it is second to none when it comes to helping you get your message across quickly and easily. Now say goodbye in the language of your choice to misunderstanding forever, and always get what you want the first time. There's almost nothing you won't be able to accomplish with the iTRAVL by your side! Using an astounding combination of the most advanced speech recognition for 13 languages and high-definition recordings of authentic native speakers, iTRAVL understands exactly what you say and offers a crystal-clear reproduction of the same words and phrases in whichever foreign language you choose. That means that by simply speaking into the device you and your listeners will be provided with a real-time, completely intelligible response that anyone can understand. It's really nothing short of miraculous! Your very own personal interpreter that is ready to help you day or night, iTRAVL will let you succeed in business meetings, enjoy sightseeing more, meet new friends and deal with emergencies and with less bother and expense than ever before.

Price: £479.95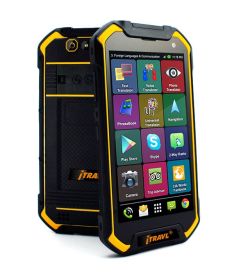 More info

Accessories
Special offer
Buy now and get the Accessory Pack (£60 value) as a gifts!
ECTACO iTRAVL 2 Multi 19 language Voice Translator and Rugged World Travel Smartphone

Model TL2/WLD19
You speak, it translates: speech to speech translation from 19 languages.
Photo Translator: Snap a photo; translates what you see.
At no charge incoming calls in over 160 Countries. No Contract.
Extreme Durability: Shockproof, dustproof, and waterproof. Massive 5000mAh Battery: Lasts for five days between charges.
Old price: £609.95 New price: £539.95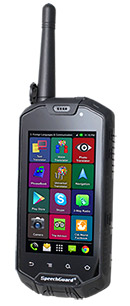 More info

Accessories
ECTACO Multi 19 language SpeechGuard TLX: Rugged World Travel Smartphone, Voice Translator & Language Assistant

Model TLX/WLD19

Raising the bar on smartphones, the ECTACO Multi 19 language SpeechGuard TLX is the perfect tool for a world traveler, language learner, or someone who just needs a superior, rugged Smartphone. The entire system is based on years of research & modeled after the original SpeechGuard, which was used by US Armed Forces during the second Gulf War. With the ability to receive FREE incoming calls in over 135 countries with NO CONTRACT it's easy to stay in touch with friends and family when you travel. Loaded with everything you need for making sense of your world in a foreign land, the SpeechGuard comes with a voice translator, picture translation, travel information, voice recognition and a Language Teacher to name very select few. It's even been called the "Panasonic Toughbook" of the smartphone world!

Old price: £629.95 New price: £539.95